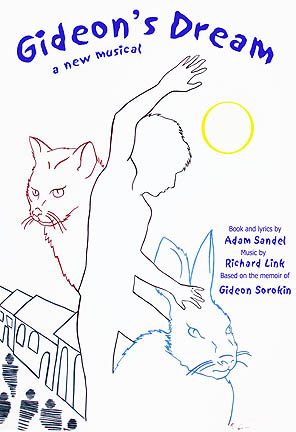 Gideon's Dream
A new musical
Based on the childhood memoir of Gideon Sorokin
Music by Richard Link
Book and Lyrics by Adam Sandel

At age 8, Gideon Sorokin fled Nazi-occupied Vienna.
Gideon's Dream takes us on an amazing journey, starting with his family's carefree life in Vienna, through their persecution and separation, their escape to Italy, and eventually their voyage to Israel where they were reunited and started a new life.
It's a story of courage, hope, loss, and the power of a child's spirit and imagination to overcome incredible obstacles.
Gideon's Dream is an uplifting, family-oriented musical, and a true-life testament to the Jewish spirit.
An active member of the San Francisco Bay Area Jewish community, Gideon Sorokin is now 77 years old. Having survived Nazi occupation and fought in Israel's war of independence, his life has spanned the Jewish experience of the 20th Century.
Poster design by Rene Capone.
---
Past productions: San Francisco, 2007
[Jump down to press photos, press information, or creators' biographies]
A fully staged workshop production of Gideon's Dream was presented on:
The concert featured a cast of accomplished Bay Area performers in period costume, accompanied by a chamber orchestra.

---
Press photos for Gideon's Dream
Click on the photos to see a 300 dpi high-res copy, or right-click and select "Save Target As" (not "Save Picture As") to download the high-res copy. [The first image is 4.5 inches square, the second image is 4x6 inches, the last three images are 6.0x4.5 inches.]
When using the photos, please include the caption provided.
(Clockwise from left) Composer Richard Link, actor Andrew Sanford, playwright and lyricist Adam Sandel, and producer Gideon Sorokin—whose childhood story has been transformed into the new musical Gideon's Dream.

---

Gideon Sorokin (left) meets Andrew Sanford (right) who played Gideon as a child in the concert version of the new musical Gideon's Dream.
En route from Nazi-occupied Vienna to Italy, Gideon (Andrew Sanford) encounters the kindness of an Italian Guard (Vladimir Zagatsky) and the cruelty of an SS Officer (Randel Hart) in the musical Gideon's Dream.
One family's true journey from Nazi-occupied Vienna to the Promised Land is brought to life in the musical Gideon's Dream. (Clockwise from left: Arthur Scappaticci, Gideon Sorokin, Estelle Mays and Andrew Sanford.)
Estelle Mays, Andrew Sanford and Arthur Scappaticci star in Gideon's Dream, a musical based on the true story of one family's journey from Nazi-occupied Vienna to the Promised Land.

---
Press information and contacts
To arrange interviews with Gideon Sorokin, Adam Sandel, or Richard Link, please call publicist Erma Murphy +1 415 250-9755 or .
For more information about Gideon's Dream, email .

---
Biographies
Adam Sandel (Playwright / Lyricist) has had more than 20 productions of his plays performed including (with Richard Link) the award-winning musical Watch Me Shine. His play This is Not My Life is being developed by San Francisco's Magic Theatre and his play Falling off the Edge was performed in Sydney, Australia and San Francisco. His play Love Life was developed at L.A.'s Mark Taper Forum Lab and produced by Paramount's Chicago Theatre Project. A television production of Love Life won several Chicago Emmy Awards and a special nomination for Sandel. Current projects include the plays The Last Romantic, Edenville and (with Richard Link) the musicals Gideon's Dream, Dream World and Midnight Fever.
Richard Link (Composer) has written scores for dance, theatre, film, TV, video, and the internet. He has composed songs, choral music and liturgical music. His works have been performed throughout Canada, the U.S., Europe and Australia. Original musicals include the award-winning The Painter's Dream, and for the Children's Music Theatre of San Jose: 2101, A Little Princess and Persephone. His film scores include the feature film Blood Clan, and the documentary Born at Home. He composed Woven Together, a cantata for the Lesbian/Gay Chorus of SF, which was featured in their 25th Anniversary concert.
Sandel and Link's song Watch Me Shine premiered at the Sydney Opera House and was featured in the documentary film Light the Flame!
Gideon Sorokin (Producer) is a rabbi and retired veterinarian, whose memoir Tales of An Unorthodox Veterinarian inspired the musical Gideon's Dream. Sorokin has previously produced two short videos, My Cat Minka and The Donkey That Saved My Life, based on portions of the book. The book was published by the Judah Magnes Museum of Berkeley in light of the historical and educational value of its vivid and personal descriptions of life in Palestine and early Israel. Sorokin is also a lecturer on a variety of topics related to Jewish and Israeli life.