Heels of Glory returned to London and DVD gift set available

Heels of Glory is an original drag action musical with an action adventure plot and tunes that would have graced a vintage Bond movie — if they'd ever got 007 in drag.
"Truly original and the perfect antidote to a bad day out in the real world." – Everything Theatre
"A crowd pleasing and highly entertaining show... you are in for a fabulous evening." – London Theatre 1
Arch villainess Allura Supreme is about to execute an evil plan to annihilate every drag queen in the world. Honey, a young drag queen, and Jay, her tomboy best friend, are all that stand in Allura's way. Fabulous international drag superstar Splendorella is set to launch Supreme's deadly new cosmetic at midnight. Will our heroes be in time to save the drag world?
The show turns the action genre cliché on its head, replacing violent gun culture and gender stereotyping with the inventiveness, bravery and nonconformity of drag. Musical theatre artists perform alongside drag stars, actors work with clowns, jazz musicians perform with cabaret singers, and solo artists are part of an ensemble. The cast plays a diverse group of LGBT+ heroes who offer alternative role models, discovering universal themes of acceptance, courage and identity. They do so with style, creating a glamorous world in which audiences enjoy spending two hours.
Splendorella and her heels made a triumphant return to London's Chelsea Theatre as part of the London Pride Festival. You can hear the music, get the DVD gift set, buy the teaser album, watch the videos, meet the characters, read the reviews and see the great audience feedback at heelsofglory.com.
Original music for Vinegar Tom and Dr. Faustus commissioned by Ridley College St. Catharines, Ontario, March 2018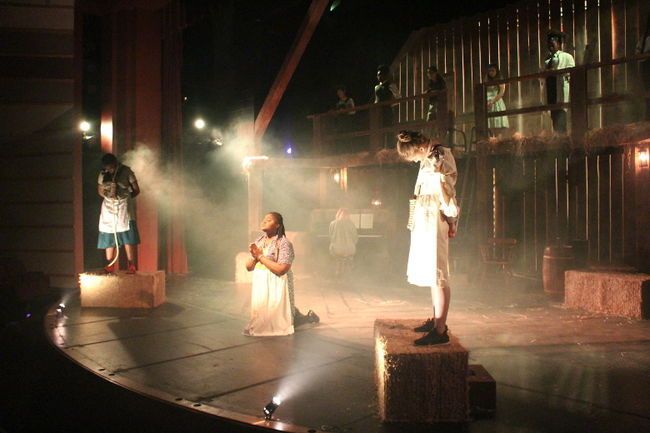 Followings its successful performance of Caucasian Chalk Circle using Richard's 38 new songs (see below), Ridley College in St. Catharines, Ontario commissioned Richard to write scores for Vinegar Tom, which was produced in November 2017 (photo, left).
Richard was thrilled to be invited to the college in January 2018, to meet the students and staff, while working on his third commission, new music for Dr. Faustus, which the college will produce in March 2018.
Richard is looking forward to returning to St. Catherine's in March to see the production.
38 original works for The Caucasian Chalk Circle commissioned by UBC; performed in the US and Canada most recently at Ridley College, St. Catharines, Ontario, March 2016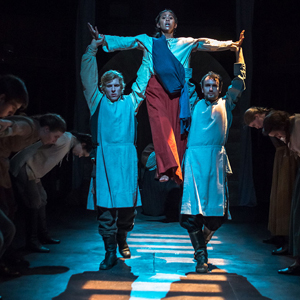 One of the iconic plays of the 20th century, Bertolt Brecht's The Caucasian Chalk Circle has a great book, however the music to its 38 songs was never published, is difficult to sing, and is often considered inaccessible to today's audiences.
Wanting to produce Caucasian for a modern audience, UBC's Department of Theatre and Film commissioned Richard to write 38 new songs, creating a fresh and contemporary approach to this enduring work. Reviews were positive, describing the production's "evocative, catchy musical numbers" and describing the music as "tuneful, varied and energetic".
While Richard was writing the songs, Illinois College contacted UBC, saying they were also mounting a production, and wondering what UBC was doing for music. After seeing Richard's music they rented it for their own production.
In late 2105, Ridley College in St. Catharines, Ontario got in touch with Richard and rented the score for their Winter Musical Performance which ran 3-5 March 2016.
Six Nights in Naples performed at London College of Music November 2015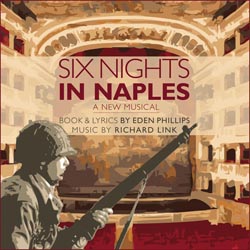 Six Nights in Naples is a charming new musical written with Eden Phillips, and a recording is now available (please contact Richard or Eden for a copy).
The show is based on a quirky, true story set in the famous Naples opera house, the Teatro di San Carlo.
In 1943, as British forces enter Naples, they find shelter at the teatro. There, with encouragement from a mysterious American visitor, they create and stage a show for Allied forces – in just six days and six nights.
The soldiers are fortunate to find some interesting characters resident in the opera house, including an Italian diva, her dresser and her dancing daughter. Culture clashes between Brits and Italians, musical theatre and opera, the real world and the supernatural combine in a piece that affectionately sends up theatrical conventions – and throws in some on-off-on love affairs for good measure.
A staged reading was performed at London's Charing Cross Theatre in June 2016, and a full production was mounted in November 2015 at the London College of Music at the University of West London. Many thanks to the talented casts who brought the story to life with their vibrant performances.
Book of Jobes Calgary, Canada, 27 February - 3 March 2104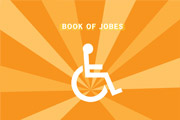 Book of Jobes, by Dr. Heidi Janz, is the story of Rachel Jobes, a disabled scholar who loses her identity but not her life after a violent attack in her home. It is based on Dr. Janz's lived experience, and deals with the archetypal question: "Why do bad things happen to good people?" and the related question of whether or not suffering can, in any sense, be redemptive.
Book of Jobes was a co-production between Kompany Family Theatre, Lone Sparrow and Fire Exit Theatre, and ran in Edmonton 16–17 February and in Calgary 27 Feb – 3 March. It includes six original choral works by Richard, and new choral arrangements of popular songs.
| | |
| --- | --- |
| | |
| Past Projects | |
---
2012
Actors Rechoired London, England, 14 November
Actors Rechoired performed three songs as part of the Pilgrimage Project: Are We Nearly There Yet? at London's famous Wiltons Music Hall on 14 November.
Shake It Down Savona, Italy, 6 October
Shake it Down is a new Shakespearean musical comedy with book and lyrics by Richard Mulholland and music by Richard Link.
Originally created for the 2012 Musical Theatre graduating class of the London College of Music, Richard and ten graduating students performed Shake it Down to a capacity audience in Savona, Italy at the 8th annual Shakespeare in Town festival on 6 October.
Featuring five original songs, Shake it Down includes scenes from Romeo and Juliet, A Midsummer Night's Dream, and Much Ado About Nothing.
Two Blonds with a Passion Western Canada Tour 10 August - 16 September
In August and September, Richard and Stephen Heatley did a Western Canadian five-city tour of their most recent cabaret show Two Blondes with a Passion Do Death in Venice. They performed Two Blondes at the Edmonton International Fringe Festival, the Vancouver Fringe Festival and in Calgary, Saskatoon and Port Moody.
Two Blondes is a sequel to their first cabaret piece Two Blondes with a Passion, which they created and performed 18 years ago in Edmonton.
La Bella Vita Arts , Livorno, Tuscany, Italy, 28 July - 5 August
Richard was back in Tuscany for his third summer teaching Musical Theatre.
Flora the Red Menace Watermans Theatre, London, England 9 - 12 May
Richard was musical director for the final project of the 2012 graduating class of the London College of Music musical theatre program.
---
2011
One Night Stand Fascinating Aida 2011 - 2012 Tour
Richard's and Sarah Louise Young's cabaret song One Night Stand was featured in the Fascinating Aida's 2011 – 2012 tour.
Crazy In Love Qustors Theatre, Ealing, London, England 16 - 26 November
Written for the 2012 graduating class of the London College of Music musical theatre program, Crazy in Love features five original songs with lyrics by Richard Mulholland and music by Richard Link. Richard was also the music director.
Angel sings Anderson London. England 9 October
Richard was accompanist at the CD release concert for Jude Alderson's recording Angel sings Anderson.
Richard can heard on the recording as pianist and arranger.
Actors Rechoired Tristan Bates Theatre London. England 27 August
Actors Rechoired made their debut as part of The Museum of Broken Relationships that was presented at the Tristan Bates Theatre.
The performance consisted of a mash up Richard created of love songs, good and bad.
The Wizard that Was or Was Not Edmonton, Alberta, 13 - 21 August
Richard and Jan Taylor's musical The Wizard that Was or Was Not premiered at the 2011 Edmonton International Fringe Festival.
Working Questors Theatre, Ealing, London, England 6 - 9 April
Richard was music director for the final project of the 2011 graduating class of the London College of Music musical theatre program.
---
2010
The Blue Lady Blues
Richard and Tricity Vogue's song The Blue Lady Blues is featured on Tricity Vogue's recording The Blue Lady Sings.
The song is available from amazon. co.uk
I Will be Right Here
Richard and Adam Sandel's song I Will Be Right Here is featured on Ceris Hine's CD Rose Tinted Girl.
La Bella Vita Arts, Castiglioncell, Tuscany, Italy, July
Richard was back in Tuscany for his second summer teaching musical theatre.
Two Blonds with a Passion do Death in Venice Vancouver, British Columbia 21 - 25 June
Richard spent 10 days in June working with Stephen Heatley on their newest cabaret piece. The 10 days culminated in three performances, two of which were in Stephen's living room with the third at the Dorothy Summset Studio on the University of British Columbia campus.
Out of the Piano The Cochrane Theatre, London, England, 20 June
Richard was invited to participate in third programme in the Just Do It / Tim Williams Award Scheme presented by London Shakespeare Workout. Thirteen British composers offered the world premiere of 20 new theatrical songs as inspired by classical/established texts not originally intended for song.
Richard wrote two songs: Do I Believe in God and Down Fanatic.
Sadistas Revisted Drill Hall, London 12 - 13 June
Richard was music director and pianist for Jude Alderson's theatrical presentation of original music.
---
2009
Cabaret Whore
Richard contributed four songs to Sarah-Louise Young's show Cabaret Whore, which received great reviews at the Edinburgh Fringe.
Readiness is All The Cochrane Theatre, London, England, 11 October
Richard was invited to be one of ten composers in the second annual Tim Williams Award Scheme, described as a "Celebration of the Art and Craft of Theatrical Song". He was given a single challenge: set to music Noel Coward's famous poem Boy Actor for barritone solo. The song was ably performed by James Smoker and very well received by the audience.
La Bella Vita Arts Yada, Tuscany, Italy, July
Richard spent two weeks teaching in Tuscany.
Richard created a shorter one-act version of his successful musical history of the LGBT+ experience, Watch Me Shine called The Party's Just Beginning, which was performed in London 17 & 18 August.
This choral work is a four-movement song cycle called Four Seasons, about growing up on the prairies. (Lyrics by Barry Thorson.
---
2008
Gideon's Dream (a new musical) 19-21 November 2008, Vienna
Richard was commissioned along with Adam Sandel to write a new musical called Gideon's Dream, based on the childhood memoir of Gideon Sorokin whose family fled Nazi-occupied Vienna to start a new life in Palestine. (Book and lyrics by Adam Sandel.)
The first act was performed in San Francisco in November 2006. Richard returned to San Francisco in September 2007 to rehearse and perform the complete show. [Read more details on the San Francisco performances]
The full production of Gideon's Dream (Gideon's Traum in German) was performed in Vienna 19-21 November 2008 at the Theater Nestroyhof.
Alberto the Dancing Alligator Edmonton, Canada, June and August 2008
Alberto is is a children's musical (book and lyrics by Jan Taylor) based on the children's book Alberto the Dancing Alligator by Richard Waring. Richard workshopped Alberto when he was in Canada November – December 2007, and the show was previewed to young audiences in June.
Produced by Kompany Family Theatre, it enjoyed a full run during the 27th Annual Edmonton International Fringe Theatre Festival 14-28 August 2008. You can watch the video interview by Vue Weekly or read a review.
Two Blondes London, May 2008
Richard was in Vancouver in November 2007 where he and director Stephen Heatley finished the sequel to their 1995 show Two Blondes.
Temple Festival
Richard was delighted to play three performances at La Grande Marque in London's historic Middle Temple:
The performances were part of 2008 Temple Festival – Celebrating 400 years.
---
2007
Little Shop of Horrors November – December, Red Deer College, Canada
Richard was asked to music direct Little Shop of Horrors at Red Deer College in Canada. He was delighted to return to the college teaching environment in his home province and reconnect with so many long-time colleagues.
While at the college he also taught and performed a Noel Coward show.
Dream World (an intergalactic musical comedy) 7 October, Savona, Italy
Dream World (book and lyrics by Adam Sandel) was selected for a Shakespeare festival in Savona, in Northern Italy, and a concert reading with four singers and piano was performed to a very warm audience as part of "Shakespeare in Town! III edizione 2007 Un sogno di una notte di mezza estate," organised by Salamander Compagnia Treatrale.
Gideon's Dream (a new musical) 14-15 September, San Francisco
Richard was commissioned along with Adam Sandel to write a new musical called Gideon's Dream, based on the childhood memoir of Gideon Sorokin whose family fled Nazi-occupied Vienna to start a new life in Palestine. (Book and lyrics by Adam Sandel.)
The first act was performed in November 2006. Richard returned to San Francisco to rehearse and perform the complete show. [Details]
Homage to Cole Porter and the Musical 14 April (Guiliano, Italy) & 29 May (London)
Richard performed an evening with Philip Giorgi, celebrating the songs of Cole Porter, George and Ira Gershwin, and Rodgers and Hart. The show is based on Philip's Fringe show A Swell Party, and includes some new arrangements by Richard.
The April performance was at the Teatro Nuovo, Valleggia, Quiliano, Italy, hosted by La Compagnia Salamander and Outlaw Theatre.
The May performance was at the British Music Hall Society in London.
Host Jamie Anderson presentedMMP's pick of the best cabaret performers working in the capital today in a new venue, The Space.
A converted Chapel from the 1600s, with many original features including stained glass and Minstrels Gallery, The Space continues MMP's successful showcase for up-and-coming talent from the worlds of musical theatre and cabaret.
Anthony Newley show January & March
Richard performed in the London production of Anthony Newley: The Singer and his Songs before the show left for the Edinburgh Fringe.
Miss Kimberley
He performed with the fabulous Miss Kimberley most Wednesdays that he was in London. (Who says her feets too big? See for yourself.)
Live Lounge
Richard co-hosted a cabaret open mic at the Live Lounge on Kensington High Street, for singers to bring or borrow music, and for fans to listen.
All that Jazz! 4 and 18 March, 8 and 29 April, 6 May; 2 June

A three-ring circus of comedy, music and variety in the plush surroundings of Soho's sexiest cabaret venue, this show ran at the Soho Revue Bar (formerly Too2Much).
It starred the 'King of Cabaret' Paul L Martin with the marvellous Sarah-Louise Young, broadway baby Marnie Baumer, and the razor-tongued Dusty Limits.
The Words and Music of Noël Coward 29-31 May
This three-day workshop, led by Paul L Martin, saw Paul and Richard explore Noël Coward's legacy to cabaret and revue, and the large body of work he achieved in this genre, at The Actors Centre in Covent Garden. [Map]
It was a practical workshop for performers with good knowledge and experience of cabaret performance themselves, incorporating the history of Coward and his effect on the art form; it also re-created some of his cabaret work in group form and as solos.
Rich Rogue Arts: Beg, Borrow, and Steal 24 March in Leeds
Beg, Borrow, and Steal: a musical evening exploring the legacy of The Beggar's Opera.
Step into the London of 1728. Teeming with whores, highwaymen and ne'er do wells—this is the world depicted in Hogarth's famous series The Rake's Progress. John Gay brings this underworld of London to life in his ballad opera The Beggar's Opera.
Written in 1728, it was based on an idea of Jonathan Swift, who proposed " …what think you, of a Newgate pastoral among the thieves and whores there?" The opera is made up of popular folk tunes of the time, and even includes melodies stolen from Handel.
The Beggar's Opera was a smash hit in its day, and in the 20th century has inspired many arrangers and composers to put their own original stamp on it. The most famous adaptation is Kurt Weill and Bertold Brecht's 1928 version The Threepenny Opera. Beggar's Holiday is Duke Ellington's Broadway-Jazz adaptation of 1946.
Richard joined accomplished actor/singers Steven Sparling and Heather Weir in this new collaboration that explores the rich musical legacy of The Beggar's Opera as arranged by Richard Bonynge, Duke Ellington, Richard Link, and others. [Details]
Cabaret 14 & 16 March
Richard worked with Paul L Martin to deliver a two-day workshop on the art of cabaret at The Actors Centre in Covent Garden. [Map]. This was a highly practical and hands-on workshop that maximised participants' opportunity to try out material whilst obtaining tips, ideas, and knowledge that helped them hone and perfect their act.
A Little Princess 20 January
Kids Acting Against Cancer mounted a production of Richard and Tegan's musical A Little Princess in the Bomhard Theatre at the Kentucky Center for the Arts in Louisville, Kentucky, on 20 January 2007.
Coaching, Los Angeles 4-10 January
Richard was in Los Angeles coaching children and helping them to compete in an international singing competition.
---
2006
After moving to London on 1 January 2006, Richard music-directed an amateur dramatics production of Follies and a college production of Bat Boy the Musical, coached cabaret workshops, played piano on a barge, and taught musical theatre programs for children and adults. As detailed above, he's also been writing new music and reworking some of his compositions. Here are some highlights:
He performed with Paul L Martin's Cabaret Confidential, in the Theatre Museum's paintings gallery, on the last Saturday of every month. December's performance was the last performance (ever!) as the London Theatre Museum has closed.
In November, he spent two weeks in San Francisco, rehearsing the cast and music-directing a concert reading of his musical, Gideon's Dream.
In October, he spent three weeks in North America, writing and workshopping new compositions. In San Francisco he workshopped and cast Gideon's Dream, in Edmonton he workshopped Alberto the Dancing Alligator and presented Four Seasons, and in Vancouver he co-wrote the sequel to Two Blondes with director Stephen Heatley.
In August and September Richard played five evening cabarets with Paul L Martin at Too2Much in Soho. The show featured a variety of singers in a new rehearsed-open-mic format.
He performed with Diva Eve at the Aga Khan Foundation Partnership Walk in The Regent's Park in London 24 July, and in Birmingham on 30 July.
He spent a week in New York in June, directing young singers in an international singing competition.
In April, he spent two weeks in Canada workshopping Alberto the Dancing Aligator.
Richard performed with Paul L Martin at the Dorchester Hotel on 29 March, and at Sopranos Piano Bar many Sunday evenings.
His song I Wonder if I'm Really Gay (from Watch Me Shine the cabaret musical) was featured in the LGCSF spring cabaret Love Bites.
---
2005
Edmonton October–November 2005
Richard was invited to return to the Canadian arts college where he taught for many years, and he music-directed and conducted their autumn production of Sondheim's Sunday in the Park with George. The show ran October 28 through November 5 in Edmonton. There's more information at the Grant MacEwan College site.
San Francisco September 2005
As Musical Director at Saint Paulus Lutheran Church from early 2000 until September 2005, Richard wrote music for almost every service. Under his direction, the church choir, the Joyful Noise Singers, performed an excerpt from his choral composition, A Joyful Noise, on September 18. For more information on the chorus and the church, visit www.saintpaulus.org.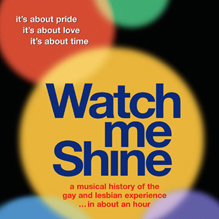 Watch Me Shine—a cabaret musical!
The song inspired thousands when it was performed at the Sydney Opera House. The cabaret musical based on the song performed to rave reviews at San Francisco Pride 2005.
California State Assemblyman Mark Leno said "In the tradition of Gilbert & Sullivan, Rogers & Hammerstein, and Kander & Ebb, we're gonna have Sandel & Link."
Someone else referred to Watch Me Shine as the "gay Beach Blanket Babylon," saying it is destined to play in San Francisco, New York, Toronto, and Vancouver for the next 20 years. If you are interested in producing this hit show in your city, or want a copy of the live recording, please contact

or

Richard Link.
San Jose June 2005

The Silicon Valley Gay Men's Chorus gave a flawless and touching rendition of Richard's composition

I Will Be Right Here at their summer concert. Recordings and DVDs are available directly from the chorus. The solo version is included on Richard's CD.
San Francisco May 2005
Richard's four-movement cantata, Woven Together, was the final piece in the Lesbian/Gay Chorus of San Francisco's historic Silver Anniversary Concert in San Francisco in May.
It was very touching during the second movement, Song of Remembrance, when a chorus member read the names of the "Angel Chorus"—members of the chorus who have passed away. And it was heartwarming to see past members of the chorus file on stage to add their voices to the last movement, Woven Together.
Special Silver Anniversary CDs of the live recording are available directly from the chorus.
Woven Together generated interest at Gala Choruses's 7th International Festival in Montréal, when it was performed at Montréal's Place des Arts, in the Theatre Maisoneuve, and it received sustained applause at both the spring concert of the Oakland-East Bay Gay Men's Chorus and the Lesbian/Gay Chorus of San Francisco's spring concert Composers in the Mist.
If you or your chorus would like to review the score,

please ask. Recordings are available from Gala Choruses, and you can hear a preview here.
---